2018 FANTASY FOOTBALL DRAFT KIT
A look back to 2017 and a look ahead to the 2018 Fantasy Football season. We will be adding content in the coming weeks to both review last year and provide expert insights for the 2018 season.
How will the 2018 NFL Draft shake out?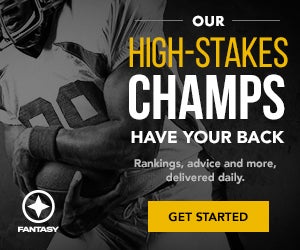 Check out our 2018 Free Agency / Player Movement Tracker!
2018 DRAFT RANKINGS
PPR: (Coming Soon)
STANDARD: (Coming Soon)
IDP: (Coming Soon)
CUSTOMIZABLE FANTASY FOOTBALL RANKINGS
ONE-PAGE CHEATSHEET (PRINTABLE) (Coming Soon)
CONSENSUS RANKINGS: (Coming Soon)
2018 DYNASTY RANKINGS
DR. ROTO'S VISIONARY TIERED RANKINGS (Coming Soon)
ADAM RONIS' POSITIONAL RANKINGS (Coming Soon)
SCOTT ATKINS' POSITIONAL RANKINGS (Coming Soon)
2018 NFL ROOKIE RANKINGS
2018 DYNASTY AUCTION VALUES
2018 AUCTION VALUES
Make sure you take 5 minutes and Enter our FREE BestBall Contest, win thousands in prizes and practice for your big draft! (Coming soon)
---

Join Scout Fantasy Sports for top advice in the industry from check-cashing, proven winners!
---
RESERVED FOR MEMBERS ONLY
PRESEASON PRO (Coming Soon)
The top ranked players in the world each reveal their No. 1 sleeper, bust, breakout, comeback and stash & cash player of the year! 
CUSTOMIZABLE FANTASY FOOTBALL RANKINGS $
Unlimited customizable cheatsheets for your home leagues backed by our award winning projections.
BREAKOUT PLAYER OF THE YEAR (Coming Soon) $
This player will breakout in 2018!
BUST OF THE YEAR (Coming Soon) $
Sometimes the best pick is a pick you don't make!
COMEBACK PLAYER OF THE YEAR (Coming Soon) $
FINDING VALUE AT QB IN FANTASY FOOTBALL (Coming Soon)
Waiting on quarterbacks in drafts are a common practice in the Fantasy community. Who are some QBs to consider late in drafts?
HIGH / LOW DRAFT SERIES (Coming Soon)
When is the earliest Christian McCaffrey has been drafted? When is the latest? Our experts provide insight on the high low ADP of several relavent Fantasy players.
POSITIONAL POINT TARGETS (Coming Soon)
Going through the player pool to give you the average player stats to help you understand what it takes to have an edge at each position.
ADP POSITIONAL REPORTS (Coming Soon)
We provide detailed outlooks for each player being selected in Scout Fantasy drafts. Players will be added, move up and down based on injuries, preseason play and other factors.
EXPERT DRAFT REVIEWS (Coming Soon)
Our Senior Experts participate in all sorts of drafts and provide pick-by-pick analysis.

2018 NFL TEAM PROJECTIONS (Coming Soon)
In-depth PREMIUM statistical projections for every offensive player on every single NFL team!
2018 FANTASY FOOTBALL ARCHIVE

DRAFT PREP & TOOLS
MOCK DRAFT SIMULATOR
MOCK DRAFT WORLD CHAMPIONSHIP
DRAFT ORDER GENERATOR
TEAM NAME GENERATOR
ADP (AVERAGE DRAFT POSITION) (Coming Soon)

2018 FANTASY FOOTBALL OUTLOOKS (Coming Soon)
Senior Fantasy Football Expert Shawn Childs provides detailed team outlooks for each NFL team heading into the 2017 season. Use these team previews to research every single Fantasy-relevant player in the NFL.
PLAYER & TEAM INFORMATION
2018 NFL Schedule (Coming Soon)
Fantasy Depth Charts
NFL Free Agency & Trades Tracker
Player Profiles
2018 Sleepers | Deep Sleepers | Busts | Studs | Gambles | Safe Picks – (Coming Soon)
2018 Handcuffs (Coming Soon)
2018 Ideal Bye Week Backups (Coming Soon)
2018 Positional Committees (Coming Soon)
2018 Contract Year Players / 2019 Free Agents 
Percentage of Quality Games
2017 Targets By Position (Coming Soon)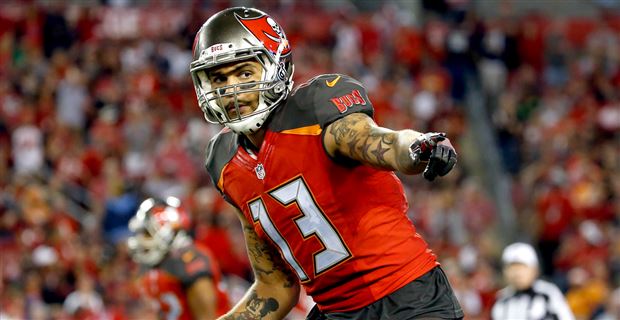 (Photo: Kim Klement, USA TODAY Sports)
Scout's Strength of Schedule is an important tool in the arsenal of serious Fantasy Football drafters. By knowing what players have easier schedules, you'll be able to make the hard decisions between two players with similar skill sets. Our Strength of Schedule rankings are based on fantasy points (performance scoring) allowed by position. The chart was built disregarding Week 17 since most Fantasy leagues end in Week 16. To view our Strength of Schedule tool, click here once it is released!
Each NFL team plays 16 games out of 17 weeks in the NFL schedule. The game that they don't play is called their bye week, or "Open Date". It is important in fantasy football to make sure that your starters and backups do not have the same bye week since one of the primary reasons for drafting backup players to have coverage during the bye week of your starter.
2017 ALL-FANTASY TEAMS
You just never can tell with the NFL. All the research, strategy and preparation can never predict the unpredictable. Check out our 2017 All-Fantasy Football squads!
| | | | |
| --- | --- | --- | --- |
| First Team | Second Team | Third Team | Honorable Mention |
| QB Russell Wilson | QB Alex Smith | QB Cam Newton | QB Carson Wentz |
| RB Todd Gurley | RB Kareem Hunt | RB Melvin Gordon | RB LeSean McCoy |
| RB Le'Veon Bell | RB Alvin Kamara | RB Mark Ingram | RB Leonard Fournette |
| WR Antonio Brown | WR Larry Fitzgerald | WR Julio Jones | WR A.J. Green |
| WR DeAndre Hopkins | WR Tyreek Hill | WR Adam Thielen | WR Davante Adams |
| WR Keenan Allen | WR Michael Thomas | WR Jarvis Landry | WR Marvin Jones |
| TE Travis Kelce | TE Rob Gronkowski | TE Zach Ertz | TE Evan Engram |
| K Greg Zuerlein | K Stephen Gostkowski | K Robbie Gould | K Chris Boswell |
| DST Jacksonville Jaguars | DST Baltimore Ravens | DST Los Angeles Rams | DST Philadelphia Eagles |
The following players had the highest average fantasy points during weeks 12-17 of the 2017 season. Click here to view the entire list at every position.
| | | | |
| --- | --- | --- | --- |
| Quarterbacks | Running Backs | Wide Receivers | Tight Ends |
| Carson Wentz (24.0) | Todd Gurley (27.1) | Antonio Brown (17.2) | Rob Gronkowski (16.1) |
| Ben Roethlisberger (22.9) | Le'Veon Bell (22.2) | DeAndre Hopkins (14.8) | Travis Kelce (9.6) |
| Jameis Winston (21.8) | Alvin Kamara (17.8) | Tyreek Hill (13.8) | Hunter Henry (8.9) |
| Russell Wilson (20.4) | Dion Lewis (15.6) | Keenan Allen (13.6) | Zach Ertz (8.2) |
| Phillip Rivers (20.2) | Melvin Gordon (14.6) | Julio Jones (13.2) | Kyle Rudolph (7.8) |
OFFSEASON MOVEMENT BY POSITION
Free agency was absolutely crazy this season, with several players moving to different teams. Let's take a look at five players at each position who will no longer be wearing the same uniform in 2016! To see the complete list, click here!
RUNNING BACKS AGED 29+
Better to sell your shares of an aging RB before the wheels fall off entirely. That usually happens around age 29. This is a shortened list, the complete list can be found here. (Note: Ages projected for September 1st, 2018.)
Frank Gore – Age 35
Jamaal Charles – Age 32
LeGarrette Blount – Age 31
LeSean McCoy – Age 30
OVERUSED RUNNING BACKS
17 running backs have rushed more than 525 times in the past three seasons. These players could be at a higher risk for injury. This is a shortened list, the complete list can be found here.
1. Todd Gurley (800)
2. Frank Gore (784)
3. Devonta Freeman (754)
4. Le'Veon Bell (747)
5. LeSean McCoy (743)
Third-Year Wide Receivers
There is a common belief among fantasy football players that most NFL wide receivers do not "break out" until their third year in the league. Some have already broken out such as Michael Thomas and Tyreek Hill but many others are on the verge. The complete list of third-year WRs can be found here.
Robbie Anderson
Corey Coleman
Josh Doctson
Will Fuller
Sterling Shepard
Laquon Treadwell
---
More content coming soon…
---

Check out the Scout Fantasy Sports Show with Adam Ronis and Dr. Roto on demand here at ScoutFantasySports.com!