WEATHER
All games play.  Finally.
PITCHING
Gerrit Cole … Cole is going to be 1 of the 2 heaviest chalk pitchers today.  There's a tier of high end guys going today and he is one of the two that has the perceived easiest matchup with Mike Leake on the other side (he doesn't, I'll explain that below).  That said, there is no denying that Cole has been amazing since coming over to Houston and the indicators are that this is going to continue all season.  He is in for a massive, massive season and soon we will be referring to Cole's starts in the same vein as Sale, Kershaw, Kluber and Scherzer.
Robbie Ray … Ray is the other half of the heavy chalk tonight.  The Giants just got dominated by Patrick Corbin and made me look absolutely stupid (hey, Evan was out, I get a ~25% pass right?) thinking they would slap the ball around on him last night.  Ray is far better pitcher than Corbin in many eyes and thus we'll see some chasing of the results from Corbin last night with Robbie.
Carlos Carrasco … So technically Carrasco IS on the road here, so we can bank on that narrative I guess.  He pitches far better on the road and has good enough history versus the Twins, but I cannot go here today with Cole and Ray at the top and this game being in good hitting conditions in my mind.  Sano is gonna take him deep.
Jose Berrios … No doubting Berrios is a stud anymore.  I don't love the matchup against this Indians team that finally has good weather to play in and will prove they're a dangerous lineup to attack.  I don't care about the home narrative.  No Berrios for me today on either site.
SLEEPER
Mike Leake … Mike Leake aint a very good pitcher and I jumped all over the Athletics against him in his last start.  But he has one tiny thing going for him today….   He's short.  Yup.  Of all the stupid things I may ever come up with that sometimes come true, there cannot be one that I enjoy using more than the "Short Pitchers versus the Astros" narrative.  Going here on FD is suicide today because of all the stud arms at the top who are affordable — but on DK where you can consider fading Cole and going one of the other studs, he's gonna allow you some heavy salary relief to get the top hitting environments today.   7 innings, 0 ER and 5 K.  Thats my stat line prediction.
TARGET TEAMS
I think some are mistaken my "target teams" for "STACKS"…  I am not recommending stacks.  I am recommending the teams who I think are in the best position to produce offensively..  So note the players who are highlighted in bold as the two primary guys to begin with from that team and that I am using from them.
DODGERS … How is Luis Perdomo allowed to pitch today?  This is total **** ****.  I don't care that pitchers 1 start equates to a positional player's 5 games.  Total crap.  He's gonna get shredded by a team/lineup that is catching fire.  Corey Seager is a thin little nerdy boy who needs protection and has been missing the presence of Justin Turner behind him.  Now with Kemp on fire, Seager is about to get on a long hitting streak and Chris Taylor is right there with him.  They're gonna jump Perfraudo today like Nolan did.
PHILLIES … McCarthy is not a legit pitcher.  He never has been in my mind and this is a disaster situation for him tonight.  Nick Williams had good success vs Atlanta last year and should get it going soon as long as he gets consistent playing time.  When the Phillies seem to have their big days we know that the young kids like Kingery and Hoskins come through but it all starts and ends with Cesar Hernandez who jumps off the page tonight at me in a weak position.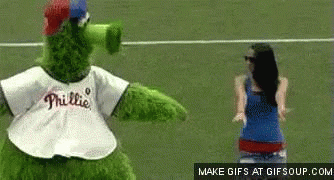 SNEAKY
ANGELS … They should remain ignored today by many but they're the perfect team to feast on Porcello.  Ian Kinsler / Mike Trout starting the top of the line off against him is a deadly way for Porcello to start.  Luis Valbuena is the third Angel I like today.
My Cores….

| | | | | | |
| --- | --- | --- | --- | --- | --- |
| Team | C/1B | 2B | 3B | SS | OF |
| Dodgers | Bellinger | | | Seager | Taylor |
| Phillies | Santana | Hernandez | | | Williams |
| Angels | | Kinsler | Valbuena | | Trout |
POSITIONAL RANKINGS
CATCHER
Nick Hundley … Him or Posey, either one.  Hundley if they both start.
Yasmani Grandal … On a tear
Jorge Alfarro … Phillies
FIRST
Eric Hosmer … It's Wednesday
Freddie Freeman … Flys under radar today I think with the high priced SP's.
Carlos Santana … Phillies
SECOND
Cesar Hernandez … wait for it …..  Phillies
Joe Panik … LvL into the Pool?
Ian Kinsler … Play w/ Trout
THIRD
Luis Valbuena
Anthony Rendon … Matz has done very well vs Nats, but they win tonight again.
Miguel Sano … Solo HR call off Cookie Monster.  Him and Rosario are my fears with Cookie….
SHORTSTOP
Corey Seager … Little Corey's got some protection now.
Scott Kingery … NL ROY
Nick Ahmed … ChaseField
OUTFIELD – Tier 1
Mike Trout – Feasts on guys like Porcello
JD Martinez
Bryce Harper
David Peralta – Love the D'Backs tonight as usual, they're kinda like the 'duh' play for me when at home.  Peralta the top guy for me on Arizona today.
OUTFIELD – Tier 2
Chris Taylor
Rhys Hoskins … wait for it… Phillies
Dee Gordon
Nick Markakis
OUTFIELD – Tier 3
Franchy Cordero
Eddie Rosario
Nick Williams – Tonights the niiiight, oh and #Phillies
DONGERS CLUB
Eric Hosmer – 1B – Chairman
Corey Seager – SS
Nick Williams – OF
Mike Trout – OF
Miguel Sano – 3B
David Peralta – OF
Nick Hundley – C
Ian Kinsler – 2B
BONUS …….  Freddie Freeman – 1B