Are you ready to DOMINATE? Scout Fantasy Spoers @ScoutFantasy is the next big thing in the Fantasy Sports industry. Top to bottom, wall-to-wall Fantasy coverage. Backed by award-winning Player Rankings, these High Stakes Winners bring you, the #ScoutArmy, daily videos, draft reviews, expert forums chats and advice for your team, along with daily DFS Picks & Strategies in EVERY sport!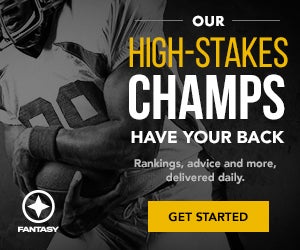 Join Scout Fantasy for top advice in the industry from check-cashing, proven winners!

Why Join Scout Fantasy?
Your membership includes season-long support, most notably in Fantasy Football and Fantasy Baseball, though in other sports as well. Here's what you get by becoming a member of the #ScoutArmy!
PLEASE NOTE: THIS IS NOT A DFS SUBSCRIPTION.
OUR DFS PACKAGES WITH OPTIMIZERS CAN BE FOUND HERE
What is included?
1. Unlimited NFL Draft Cheatsheets and In-Season Weekly Player Rankings customized for your specific league scoring and lineup requirements. With our customizable rankings, you'll be a step ahead of your competition. Your opponents probably printed out some random rankings without taking your league settings into account. You won't make that mistake.
---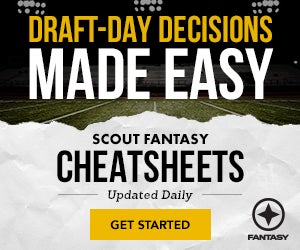 Join Scout Fantasy Sports for access to fully customizable cheat sheets that will help you DOMINATE your competition!
---
2. Scout Fantasy's Annual Draft Kit: Everything you need for draft day including in-depth Team Outlooks, Hi-Low Draft Windows, Cash League Average Draft Positions and of course, the holy grail itself, Preseason Pro. Preseason Pro is a tool we developed where the Top Ranked Players in the World provide their one and only sleepers, bust, breakout player, comeback player and stash and cash hold!
---
3. Premium Forums: Personal Fantasy consultants for your specific "Who-Do-I-Start" and waiver wire questions answered on our member-only forums every day of every week. Scout Fantasy is defined by our community! The #ScoutArmy!! Be sure to head over to our forums, especially on Sunday mornings where Dr Roto, Adam Ronis and Shawn Childs will answer your WDIS questions!
---
4. Draft Reviews: Laser-guided Average Draft Position analysis! Articles that discuss how to avoid reaching and value discussion with positional awareness commentary. These drafts come from High-stakes leagues with the world's best drafters. Insights found nowhere else in the industry.
---
5. NFL and MLB Tools
NFL
MLB
Waiver Wire Targets
Injury Reports
Weekly Stock Watch
Closer Grid / Bullpen Breakdowns
6. Access to Scout Fantasy Member-Only Contests

SCOUT FANTASY SENIOR EXPERTS
As a premium member, you now have access to the industry's absolute best experts. Remember, there are 11 losers in every league. Who are you listening to?
Dr. Roto
– FSWA 2011 Newcomer of the Year
– Won four Scout Fantasy Online Championship leagues
– Beat out entire field of 500+ players in his Beat Dr. Roto contest in 2014
– Two-time winner of SiriusXM Expert Host Fantasy Football league
– Multiple high-stakes leagues wins
Shawn Childs
– Second-most accurate DFS Expert in 2014
– Netted hundreds of thousands of dollars playing Fantasy Sports
– 2-time NFL DFS Championship Finalist
– ONLY HIGH-STAKES PLAYER to finish in the Top 5 Fantasy Players of the Year on FOUR separate occasions!
Adam Ronis
– Six years of experience hosting SiriusXM Fantasy radio
– Multiple wins in high-stakes leagues
– Winner of many industry-related expert leagues
– FSTA Award winner for Best Fantasy Sports Radio program in 2015
Scott Atkins
– Founder & President of the Fantasy Players Association
– Regular appearances on SiriusXM Fantasy and ESPN Radio
– Won $30,000 in NFL DFS on DraftKings Week 17 of 2015
– Nightly NBA DFS Expert & Teacher
– Multiple 5 Figure NFL cashes in DFS & High Stakes Season-Long tournaments
– Qualified for DraftKings' 2014 Atlantis King of the Beach ($70,000 value)
Mark Deming
– Former No. 1 Ranked Fantasy Football Player
– Highest winning percentage in high-stakes history
– Four top 15 finishes in National Tournaments
– Co-Founder of FullTime Fantasy Sports
Ian Ritchie
– Former No. 1 Fantasy Football player in the world
– Co-Founder of FullTime Fantasy Sports
– Scout Fantasy's senior Vice President